MINI JAZZ FOR ALL
1 . Sachem at Opéra Zoizo 
Discovering the Jazz Child – Sachem workshop and show – Fred Pichot
Every month, on the 1st Wednesday, jazz is allowed and free for the little ones:
Come and meet the Jazz Child on the 1st Wednesday of each month in the Zoizo Opera House.
Show workshops for the little ones.
A 2-hour session of discovery of music and improvisation from the awareness of waste sorting proposed by the musician and musicologist Fred Pichot.
  . For whom? 6 to 12 years old children
  . When? Every 1st Wednesday from 3 to 5 pm : No workshop in January / February 2 / March 2 / April 6 / May 4 
  . How much? Free workshop – subject to availability
  . How to get there? On registration – within the limits of available places
  . Where? Marseille Jazz at Opéra Zoizo – 11 rue Beauvau 13001 Marseille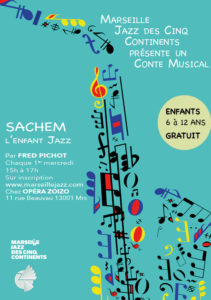 2 . Jazz cooking workshop
Discovery and culinary journey through the Jazz of the five continents

To make children discover cooking and jazz is possible with the Chef Maelyss Vultaggio of Opéra Zoizo.
  . For whom? 8 to 12 years old
  . When? Every 3rd Wednesday of the month, a cooking and jazz workshop is offered from 3:30 to 5:00 pm :  February 23 / March 16 / No workshop in April / May 18
  . How much? €5  of participation to the expenses/child
  . How to get there? Upon registration – subject to availability
  . Where? Marseille Jazz at Opéra Zoizo – 11 rue Beauvau 13001 Marseille