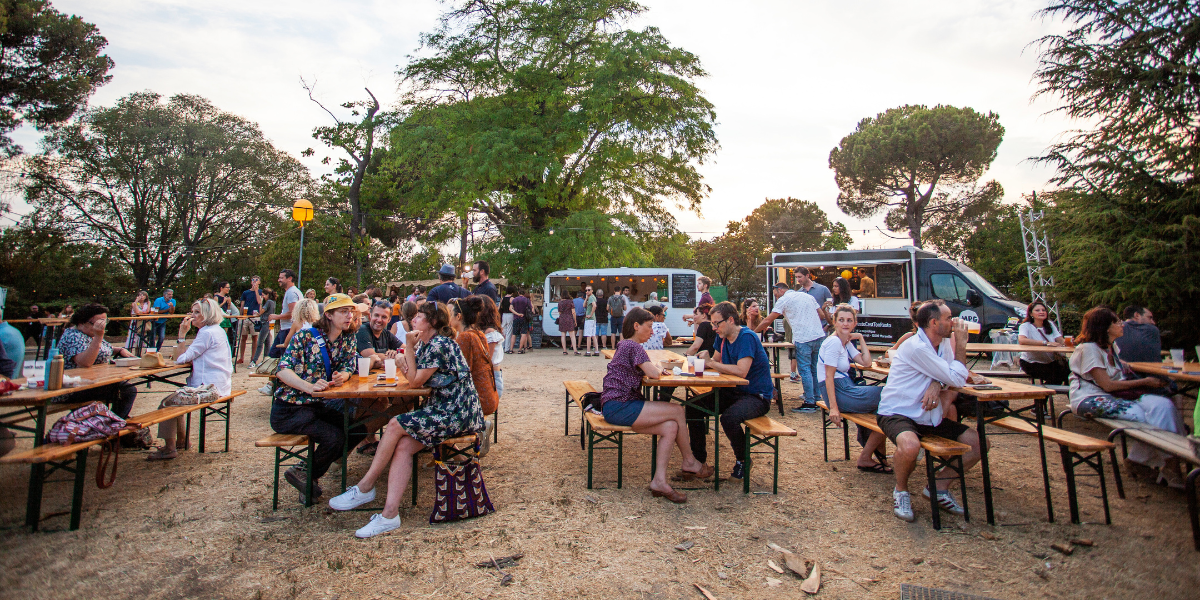 An international jazz festival in the city, in a setting between mineral and vegetation, on the Mediterranean shore
Our view of the landscape Festival Le Jazz des cinq continents is part of the essential transformation of festivals throughout the world to combine culture and sustainable development. Aware of the environmental and societal challenges, we have made commitments. Each year, they are completed, some are dated, new ones are imposed and then the major ones are affirmed in connection with the progress of the reflection. Our ability to slip into good practice is an objective of a global strategy supported by the entire team. Timeless, inclusive, eco-responsible and disruptive, it is together that we are building the present of Jazz of the Five Continents with partners that we want to be part of this approach.
This approach is necessary because the production of a festival encourages us to set up actions and to find the means to ensure the sustainability of the sites on which we are established. It is clear that the installation of our events has an impact on the environment.
Taking this impact into account is the least we can do. But we have chosen to do even better.
Our commitments
Jazz of the Five Continents integrates the challenges of eco-responsibility in the medium and long term, in its vision and development strategy. First and foremost, we are committed to complying with the legal rules in force in our country.
In addition to its artistic raison d'être and its ambition to showcase its territory, the Marseille Jazz Festival of the Five Continents has been committed for several years to a CSR and RSO approach. We are following a reasoned development plan drawn up in 2021 with an expert CSR consulting firm.
Social and solidarity actions, waste recovery, sorting and reduction, choice of service providers favouring short circuits, respect for the environment and the spaces occupied, structural ecological commitments, raising awareness of environmental and social issues among the teams and the public, the fight against all forms of violence, commitment to the circular economy: Sustainable procurement (responsible purchasing). Ecodesign, Territorial ecology, Functional economy, Responsible consumption, Extended life cycle, Recycling, End of product life.
To make our vision a driver for positive change in our entire "sector" (public, partners, service providers, etc.).
Our values
A festival on a human scale, a human in its environment: artistic excellence, creativity, integrity in terms of openness, respect, inclusion, diversity, tolerance.
---
Artistic
– Since 2000: The festival is a platform for the expression of the diversity of the world jazz scene. International, local and regional artists are present every year.
– Since 2017: Supporting local artists in their international development project.
– Since 2018: Balance of genres in the artistic programming.
– Since 2020: Several stages are entirely dedicated to local artists.
Food
– Since 2000: Filter or bean coffee machines for all teams, reusable tableware for catering areas.
– Since 2018: Local sourcing, from short circuits for the festival catering and the restaurant areas.
– Since 2021: Choice of menus in advance to avoid food waste.
– Establishment of a "Sustainable Development" commitment specification signed by the festival's catering, bar and restaurant service providers – Water fountains at the festival.
– No more selling of drinks in cans or plastic bottles.
– In the dressing rooms, no cans, no plastic.
– Since 2022: eco-responsible catering: reduction of animal proteins by favouring bulk purchases.
– Fight against food waste with redistribution to associations (On se géler dehors).
Welcome
– Since 2000: Welcoming the public, artists, technicians and teams in good conditions means listening, providing facilities, infrastructures, catering areas, safety for all, and also relaxation time and massages by professionals after long hours of work.
Ticketing
– Since 2006: implementation of a paperless ticketing system: 92.7% of our festival-goers buy their tickets online.
– Since 2021: Elimination of physical ticket offices on the festival sites: reduction of paper, ink and electricity consumption – reduction of waste
Communication
– Since 2000: Creation and printing of communication tools by local service providers.
– Since 2012: Reduction in the weight of paper.
– Since 2015: Reduction of the printed part of communication documents in favour of digital communication and a rational distribution of paper media.
– Since 2019: Creation of an interactive digital map with the help of the CNM, the DRAC Paca and the Southern Region.
– Since 2021: Elimination of evening programmes.
– Reusable signage on wood.
– Recycling of previous years' tarpaulins by Atelier Cribili.
– Since 2022: Improve external communication and intensify it with the public, the artists and the teams on the eco-responsible actions put in place.
– Use recycled paper and vegetable-based inks
– Stop creating roll-ups unless they are generic and reusable tarpaulins.
– No distribution of USB keys and no more creation of cotton bags, notebooks and festival goodies.
– Signage and communication supports on wood
Creation
A festival is a creative space for artists, offering unique encounters, original concerts, the places and natural elements are also sources of inspiration and improvisation. Marseille Jazz also supports artists in training in the creation of their projects.
Charter
– In 2021: Drafting of an eco-responsible specification for our bar and restaurant service providers.
– Since 2022: Drafting of a charter to raise awareness of our commitments among our teams, artists, service providers and partners.
– Drafting and making available the eco-festival guide.
Waste
– Since 2000: Use of reusable, recyclable or compostable tableware.
– Since 2009: Waste sorting in partnership with the Aremacs association.
– Cigarette butts are entrusted to Recyclope and masks since the Covid-19 pandemic to Lemon tri.
– Since 2013: Use of returnable cups on the Palais Longchamp site and on sites where our partners have the same approach.
– In 2017: Membership of Yoyo, a platform for relations between sorters and waste collection and sorting sites.
– Since 2019: Collection of cigarette butts and provision of returnable ashtrays.
– Since 2021: Ban on the sale of plastic bottles at the festival.
– Replacement of the plastic bottles of the technical and artistic teams by water bottles.
– Installation of water fountains at the Palais Longchamp and authorisation of water bottles on all sites.
– Zero Waste Marseille carried out a diagnosis of waste on the festival sites and in the office.
– Collection and recycling of bio-waste with the Alchemists.
– Since 2022: recovery of certain waste for use in year-round projects (e.g. water bottles, etc.)
– Still: encourage and better inform the public about recycling on the festival sites.
Artistic and Cultural Education
– Since 2021: Mediations in the elementary schools of the City of Marseille with the project Sachem – ecological musical tale by Fred Pichot – jazzman where show and workshop allow children to approach jazz and ecology.
– Again: Sachem continues, and two other projects are proposed to schools Les Voix Divines by Laure Donnat and Lilian Bencini, and the Collectif Kay project by Lamine Diagne.
With the support of Solimut
Ecosystem
– Since 2000: We select local service providers and partners from the South of France in order to highlight the know-how of the region. We favour local and short circuit purchases.
Fairness = balance
We are committed to equality, but nothing is equal in nature, say the sceptics! We talk about equal rights, equal opportunities and equal opportunities. In order to achieve this equality, we need to build equity approaches. Only these can correct the initial inequalities and establish equivalence between women and men, taking into account their specific needs and interests. In this way we hope to achieve the balance that truly erases all forms of discrimination.
Energies
– Since 2000: Respect for the gardens of the Palais Longchamp through collaborative work with the parks and gardens teams.
– Since 2018: Lighting of the festival sites with low-energy lamps.
– Since 2021: Use of bio-fuel generators from Cap Générateur.
> Delivery of bio-fuel in tankers also running on bio-fuel.
Do
– Since 2000: Always doing, always improving, questioning, exchanging and continuing.
Training
– Since 2021: Establishment of a collaboration of exchange and transmission of skills with cultural structures based in Dakar (Senegal) and Lomé (Togo) such as Optimist Prod , Yakar or Khelcom. Welcoming technicians or administrative staff to our teams for a week of observation and learning.
– Again: Hosting of trainees from the EPIDE or IMFP to train in the entertainment industry.
Genre
– Since 2018: The festival has committed by signing the Europe Jazz Balance charter to gender balance in the jazz sector "…put in place policies and action plans to involve more women as artists, artistic directors and producers, staff and board members and audience members in our work…"
Disability
– Since 2012: Creation of the "Handijazz" space to welcome all types of people with disabilities and installation of 4 dedicated people at the Palais Longchamp.
– Installation of magnetic loops at the festival venues.
– Translation of the programme into Braille in partnership with the association La Luciole and by the Sound Library.
– Since 2013: Free admission for accompanying persons with reduced mobility.
– Since 2015: Reception staff dedicated to people with disabilities at all sites.
– Reduced rate for AAH beneficiaries – CMI
– Since 2016: Website adapted for visually impaired people.
– Since 2022: partnership with the association Comme les autres to welcome the association's beneficiaries to our teams.
– Still: implementation of the Jungle Waste project with the IME la Fabrik and the Arc En Ciel association
Solimut mutuelle de France soutient le Handijazz.
Inclusion
Our teams mirror the world, young, old, able-bodied, disabled, tall, short – jazz brings people together.
International
– Since 2000: The festival is connected to five continents. Bringing together jazz musicians from all over the world in Marseille. Five Continents is not just a name, it is a commitment to open up to the diversity of jazz and to musical encounters.
Jazz
– Since 2000: The Association Festival International Marseille Jazz des cinq continents has been organising a festival highlighting the diversity of the world jazz scene. The artistic line aims to show how jazz meets world music to make today's music. Local and international artists meet on the historic and new stages of Marseille and the whole of the Metropolitan area.
Young people
The festival is a partner in several schemes aimed at offering discounts to young people so that they can discover the cultural offerings in their area: the Culture Pass supported by the Ministry of Culture, e-PASS JEUNES by the Southern Region, PACTE'AMU by Aix-Marseille University and the Carte Collégien de Provence by the Bouches-du-Rhône Department.
Young audience
– The "Sachem" project offers young people the opportunity to discover jazz music and playful workshops to understand and hear sounds while creating their own instrument. Daring to be oneself and creating a performance and writing workshops is the project of the Collectif Kay, Les Voix Divines will make children discover that they all have an instrument they can learn to play: their voice. These projects are spread throughout the schools of the City of Marseille.
– The "Jungle Waste" project offers young people collective time to create an instrumentarium made of recycled objects that will be exhibited and used at the Palais Longchamp during the festival, in collaboration with the social centres of the Marseille metropolitan area.
Locavore
– We all want good things that do us good. For us, for you, for our planet.
– The festival provides locavore culinary proposals for artists, teams and audiences.
Law
– Since 2000: We respect the laws of our country.
Material
– Since 2000: Reuse of material from one edition to the next: various tools, shade sails, blackouts, rain covers, spotlights, mirrors, tarpaulins, straps, wooden blackout panels
wooden blackout panels, hydroalcoholic gel dispensing columns, water fountain columns, reusable collars.
– Since 2010: Installation of dry toilets for festival-goers, teams and artists on the Palais Longchamp site.
– Since 2015: Hybridization between manufacturing and rental: reception desks, showers, water fountains, stand-up tables, separation barriers, access ramps for people with disabilities, LED bars, signage.
– In 2021: Creation of a wooden structure with the name of the festival – giant lettering, reusable.
– Since 2022: Reduction in the use of scotch tape, recovery of scraped cotton, reduction of our locations on the sites.
Mutualisation
– Since 2000: Pooling of technical elements through rental.
– Rental of storage space, pooling of our equipment with other partners.
– Since 2022: Group purchases of water fountains, earplug tower with other local festivals all members of COFEES.
Mobility
– Since 2000: Choice of festival venues accessible by public transport.
– Since 2008: Extension of metro and tramway timetables in partnership with Aix-Marseille Métropole.
– Since 2011: Encouragement of carpooling.
– Since 2015: Introduction of a free shuttle for festival-goers to get to the Théâtre Silvain with our partner Colorbus.
– Since 2015: Installation of a secure bicycle garage at the Théâtre Silvain.
– From 2014 to 2019: Totem partnership – electric vehicles, for festival teams and tariff advantage for festival goers.
– From 2014 to 2018: TER partnership to encourage audiences in the Southern Region to travel by train.
– In 2017: Green convergence at the Théâtre Silvain on the occasion of the Tour de France; with Laujo bicycle parade.
– Since 2018: Gradual reduction of car parking for the festival's partners at the Palais Longchamp to encourage our partners to use more responsible means of public or individual transport.
– Since 2022: Information to all staff on carpooling possibilities.
– Bicycles: count the number of bicycles, better indicate the Palais Longchamp bicycle park and create one at the Vieille Charité.
– Hire electric vehicles for the teams and the artists' reception.
Standard
– Since 2020: implementation of a responsible, social and environmental management method, moving towards Iso 20121 certification.
Digital
– Videos, social networks, streaming, blockchain, email, newsletters, websites, webinars… the world is digital but digital and responsible
– The festival has chosen to pool and work on a cloud, to have a green server to host its website and mailboxes.
Prevention
– Since 2016: Distribution of earplugs on demand.
– Since 2018: Signatory of the European charter for gender equality "Gender balance".
– Since 2021: Signatory of the document of commitment to the respect of the protocol against sexist harassment and sexual violence of the National Music Centre. Team discussion and information sessions, training of legal representatives by a certified organisation.
– Since 2022: Training of permanent teams, trainees, division managers and security staff to combat sexual harassment by Family Planning.
– Implementation of the SAFER system at the Palais Longchamp
Partners
– Since 2000: The festival has surrounded itself with committed local partners according to its needs.
– Partner since 2018, and new in 2022: Rental of a fleet of electric cars from Olympic Location, also a local service provider.
– The festival is also keen to surround itself with partners and patrons who share its values and ethical convictions, such as the Caisse d'Épargne Cepac, which has been working with us for many years, and Orange, which supports cultural projects with a social and responsible vocation.
Networks & groups
– Since 2010: Member of Cultures du Coeur and Jazz sur la Ville.
– From 2012 to 2019: Member of FLUX de Marseille.
– Since 2015: Member of the networks Vivre ensemble, Ensemble en Provence, Ligue de l'enseignement.
– Member of the European Jazz Network and the Association Jazzé Croisé.
– Since 2021: Member of the Collectif COFEES.
– Signatory of the Zero Plastic Waste Charter for the Southern Region led by ARBE.
– 2022 : Signatory of the Drastic On Plastic Charter, signatory of the ReMed Zero Plastic Charter and member of the " Sorsors tes couverts " project of the Collectif des Festivals.
R…
Refuse, Reduce, Reuse, Recycle, Rot (compost) we strive to follow this path.
Social & Management
– Since 2000: Promoting geographical proximity and regional employment for the teams.
– Accompanying and training young people in the entertainment industry (internships, apprenticeships, sandwich courses).
– Offer teams the opportunity to train and improve their skills.
– Since 2010: Hiring of a full-time person with a motor disability within the permanent team.
– Since 2014: Implementation of a single prevention document (DUP) to raise awareness among the festival teams, artists, partners and suppliers.
– In 2020: Creation of a CSR reflection group within the festival.
– In 2021: Training in CSR consulting by the firm Herry Management.
– Hiring of a CSR site manager for the festival
– 2021/2022: Study project for an eco-responsible festival with the students of the Master 2 course Administration of Cultural Institutions of the Faculty of Economics and Management of Aix-Marseille University.
– In 2022: Presence of a CSR trainee for 6 months.
– Organisation of a preliminary meeting to raise awareness of the festival's sustainable development approach among all staff, technicians and service providers.
– In 2023: Plan more preparation time beforehand with the site managers, in particular to optimise the logistics of transporting equipment and limit the number of journeys. Recruitment of an employee for 6 months to set up and monitor CSR.
Solidaire
– Since 2012: Creation of the "Parcours de gratuité" which lists all the free actions of the festival in a specific document for targeted distribution to social structures.
– Since 2017: Mediations in prisons, social centres, CMA and accompaniment to concerts.
– Since 2020 : Socio-cultural projects with artists and social centres on the theme of jazz and the environment.
– In 2021: prior to the festival, workshops with the social centres and social structures of the City of Marseille. Project imagined by the artist Lise Couzinier and totally eco-responsible: recycling of paper, manufacture of bricks from this material, soaked, agglomerated and then dried, installation of the bricks by children and young people on the site; invitations to the concert evenings, during the dismantling and recycling of the bricks.
– Since 2021: Creation of the 1 euro solidarity ticket for the disadvantaged: the Solijazz in partnership with the City of Marseille's sector councils.
– In 2023: More Solijazz tickets thanks to the Town Halls of 1/7, 4/5, 11/12, 15/16
Fares
– Since 2000: Adapted pricing policy for European students, RSA beneficiaries, job seekers, Mobility Inclusion Card, large family card.
– Since 2021: Introduction of a 1 euro ticket for Solijazz for the underprivileged.
– 1 ticket purchased = 1 ticket offered with the Southern Region.
– In 2022: Creation of a youth rate for under 18s.
Territory
Expand the territories – from the North to the South of the City of Marseille, the Region, the Department, the Metropolis, Paris, the international scene, Africa, Europe…. Sustainably.
Alive
A festival is a living whole that breathes with the world around it. Movement is its natural state and balance is the tool for its preservation.
Waste
– In 2022: The creative, artistic and ecological project with the social structures is the Jungle Waste: collective day of waste collection, creation of garlands, flowers and shrubs out of recycled waste, during workshops, installation in the Marseille Jazz structure (giant lettering) and exhibition from 19 to 23 July.
– In 2023: the project continues with the social and medico-social structures and hosts a giant instrumentarium made from recycled waste, installed in the Marseille Jazz structure (giant lettering) and exhibition during the festival from 21 to 27 July.
Zero
The best waste will always be the one we don't produce, let's continue our approach together.
---
Caring spaces for all,
Marseille jazz des cinq continents is designed to be a space of well-being – a place to meet, to enjoy each other's company and the music we all love.
To do this, we rely on the safety of all participants in the event. We seek to develop a safer space, one in which all people feel valued and respected. As such, and in line with our commitments, we have a zero tolerance policy for harassment of any kind.
We support the fair treatment of all people, regardless of their diverse identities. We ask you to join us in supporting the safety and well-being of all performers, staff and audience members so that we can all do what we do best: enjoy the music.