For the second year, the festival enters Marseille's schools to meet the young public with three projects: Sachem – L'enfant jazz, Les Voix Divines, and the Collectif Kay – music, graffiti, dance, rap & slam. There are 19 elementary schools in the 16 arrondissements of the City of Marseille, i.e. more than 3,000 children aged 6 to 10 who meet professional artists, take part in workshops and performances and discover jazz. Each child in each school benefits from a mediation session beforehand, where they are given a Carnet Jazz – a passport to discover jazz music and follow the workshops' path.
The Projects 
1. JAZZ & ECOLOGY
Sachem – "the jazz child"
Sachem – jazzman Fred Pichot – tells the story of his encounter with the Jazz Child who lives in harmony with Nature. Together they celebrate the beauty of existence in a musical journey where Blues, Swing, Groove, meet rituals from the five continents with the aim of getting rid of the sixth one: the plastic continent… So the freedom of jazz goes hand in hand with ecological awareness.
Objects recycled into musical instruments transform the future… "Throw away less and create more!" would be the optimistic and educational leitmotiv of this musical adventure.
– 1 mediation by a mediator in the school
– 1 performance given by 1 artist in front of a complete school of maximum 300 pupils
– 4 workshops conducted by mediators on the construction of instruments and the reuse of materials
Dates: from November 2022 to April 2023
With the support of Solimut Mutuelle de France.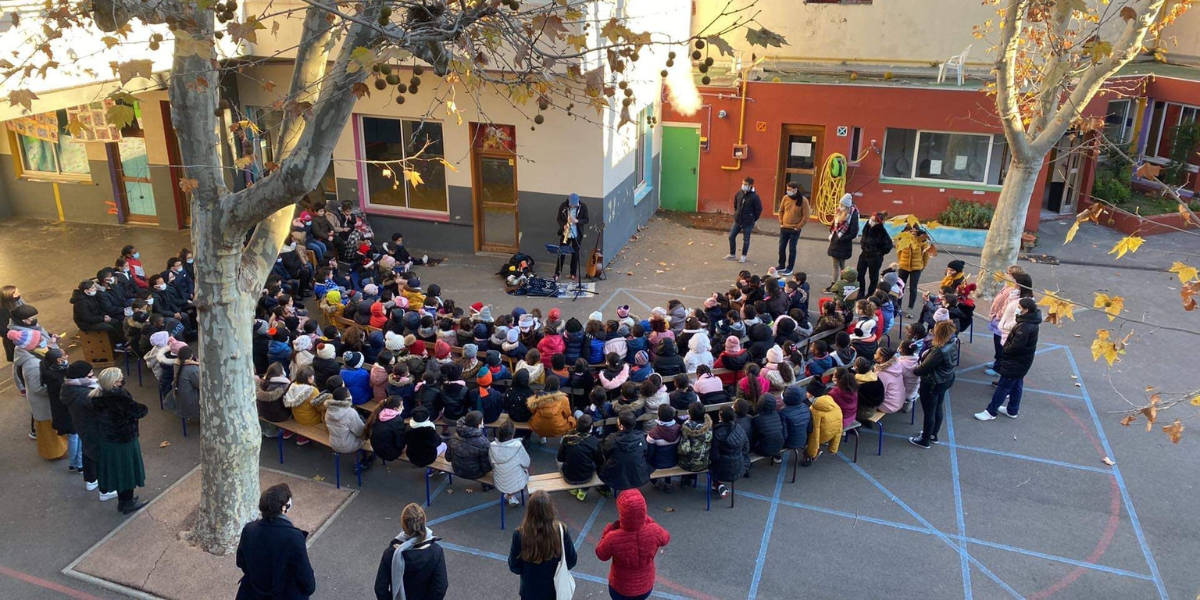 2 . JAZZ & SLAM
The Kay Collective – participatory and immersive performance

A group of artists, musicians, rappers, slammers, grapheurs, dancers and video artists will take possession of a space in the school to welcome the students. This performance is born from the desire to meet each other, it is an attempt to be together, listening to the same present. Through music, words, graphic and video productions, the collective questions our environment, our city, the way we inhabit this present, our vision and wishes for the future, the place of each person in the collective space, how we live together. All students are invited to take up the proposals, a microphone, a paintbrush, their own bodies to express themselves. They are invited without being held captive and can sit down and walk around living their lives in the jostled framework of their daily lives.
– 1 mediation by a mediator in the school
– 1 performance proposed by the collective – 8 people in front of a complete school of maximum 300 students
– 2 workshops led by 4 artists of the collective on the themes of writing (slam, spoken word), hip-hop dance, musical initiation.
The authors of the Kay Collective: Lamine Diagne & Raymond Dikoumé
Dates: 15 & 16 May 2023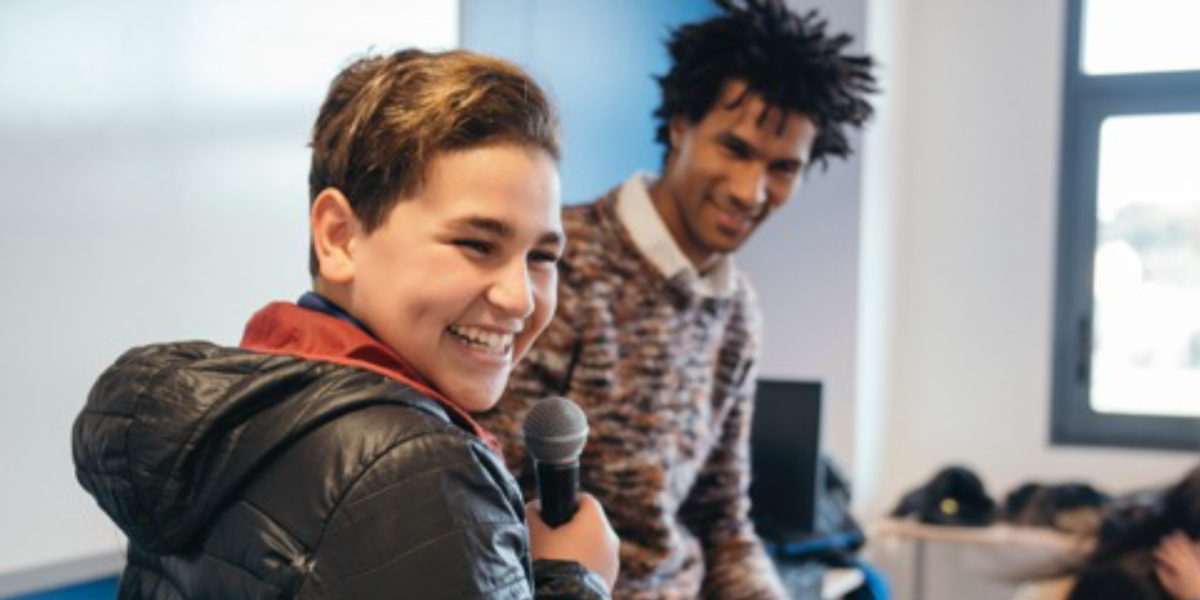 3 . JAZZ & SINGING
Divine voices – workshop and concert
Workshop for a class: After a presentation of THE VOICE and a warm-up of this vocal instrument that everyone possesses, the artist Laure Donnat takes the children into the Blues of New Orleans but with French lyrics, and they will play together on games around the "scat" improvisation.
Then, they end this morning with a discussion about the profession of "musician".
– 1 performance by a duo of artists in front of a complete school of maximum 300 pupils.
Duo Billie's Blues " Voix Divines " : Laure Donnat : vocals – Lilian Bencini : double bass
"The voice has always been at the centre of my life.
On stage, in workshops, in master classes or in a classroom, I sing, I study voices, I make them sing, vibrate, resonate and I end up hearing the song of souls, of my soul.
With the Billie's Blues Duo, a few years ago, we explored Billie Holiday's voice with Lilian Bencini.
Today I wanted to broaden the field to all those voices that have always accompanied me, rocked me, touched me: from the unique Billie Holiday to the divine Ella Fitzgerald, via the indomitable Nina Simone, but also Abbey Lincoln, Joni Mitchell, Rickie Lee Jones, Aretha Franklin or the lesser known Annie Ross, I offer you a journey to the most intimate part of the voice, carried by the strings of the double bass alone."
Laure Donnat
Dates: 25 May & 1 June 2023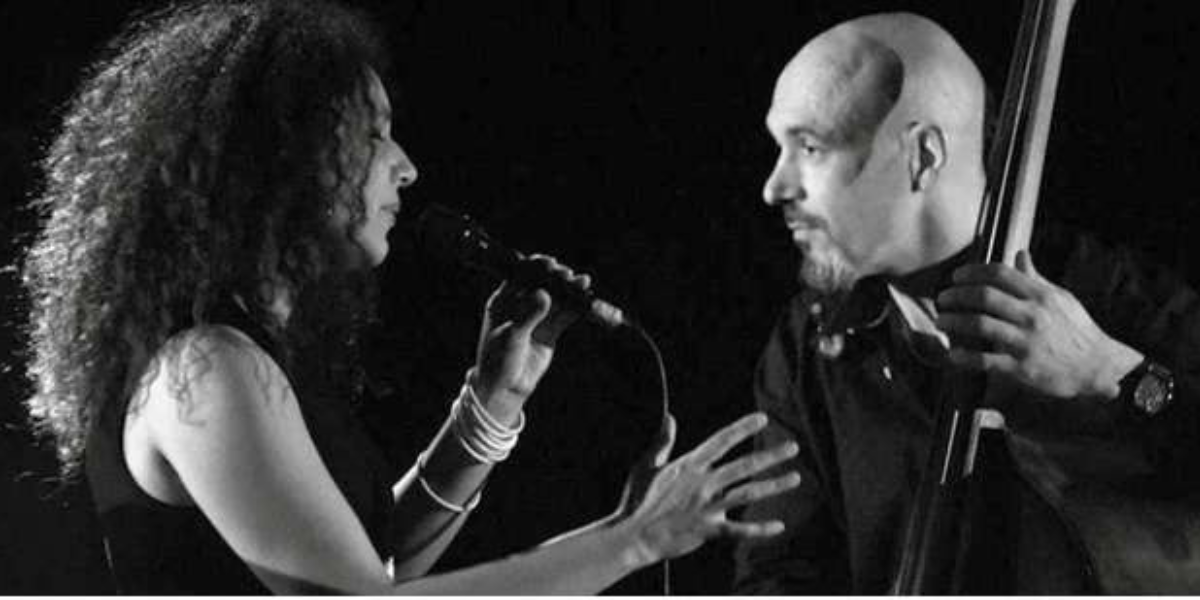 ---
The educational objectives of all the actions
Discovery of jazz music / Discovery of musical instruments / Meeting with professional artists / Raising awareness of recycling / Creation of instruments from reused materials / Creation of sets / Writing workshops / Plastic arts workshops / Participation in a collective project / Self-evaluation of actions and feedback / Participation in one or more concerts.
Beneficiary groups
– Schoolchildren from the City of Marseille, the Bouches du Rhône department and the Aix-Marseille Provence metropolitan area.
2,600 children in 2021-2022 participated in these actions. Target of 4,000 children in 2022-2023
– Children aged 5 to 15 in social centres, Maisons pour tous, Foyers, Centre d'Action Sociale, Institut Médicoéducatif,
300 children in 2021-2022 participated in these actions. The goal is 400 children in 2022-2023
– Families in the 1st and 3rd districts of Marseille, and the 4th district: 500 people.
The beneficiary structures of our EAC actions :
École Barthélémy – Saint-Savournin (13001) – École François Moisson (13002) – École Peyssonnel 2 (13003) – École Boisson (13004) – École FRAISSINET (13005) – École Eydoux (13006) – École Candolle (13007) – École du Rouet (13008) – École Château- Sec School (13009) – Pont de Vivaux Saccoman School (13010) – Rouguière School (13011) – Grande Bastide Cazaulx School (13012) – Saint- Just Centre 1 School (13013) – La Busserine School (13014) – Saint Barthelemy Les Flamants School (13014) – Saint-Louis Lévèque School (13015) – Bastides School (13015) – Aix-Luynes Prison (13852)
All actions are free of charge.
Evaluation criteria
Interest in the projects, number of beneficiaries, artist's notebook, communication.
---
CONTACTS
Aurélie Pampana – Administrator – [email protected]
Léa Portal – Public Relations Apprentice – [email protected]
04 95 09 32 57